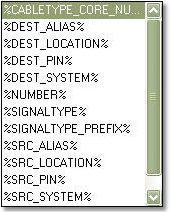 %CABLETYPE_CORE_NUMBER% = Cable Type Core Number field from the Cable Type
%DEST_ALIAS% = Destination Alias field
%DEST_LOCATION% = Destination Location field
%DEST_PIN% = Destination Port
%DEST_SYSTEM% = Destination = SysName
%NUMBER% = A sequential number. This number can Sequence On any other selected field.
%SIGNALTYPE% = The Signal Type of the cable.
%SIGNALTYPE_PREFIX% = The Signal Type Prefix from the Signal Types database.
%SRC_ALIAS% = Source Alias field.
%SRC_LOCATION% = Source Location field.
%SRC_PIN% = Source Port.
%SRC_SYSTEM% = Source SysName.
%STATIC_TEXT% = A literal string value that can be used repeatedly throughout the numbering format. Use the %STATIC_TEXT% variable for delimiters and other static values.